TUNER 432 HZ

To play music in 432 hz you should use a musical tuner.
All the musical tuner for instruments are not able to tune in 432 hz.
If you want to purchase a tuner in 432 hz be carefull:
SEE the FREQUENCY RANGE of the tuner that must go to 432 hz or 415 hz.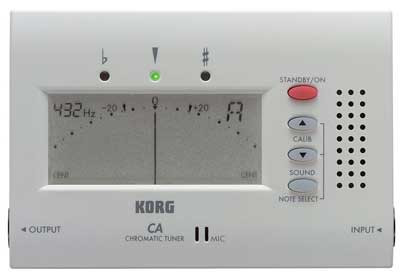 432music.org sell tuner in 432 Hz >>> HERE
How to be sure that a music is in 432 Hz?

1 ° take your electronic tuner
2 ° calibrate on 432 Hz
3 ° broadcast the music inspected
4 ° observe if the tuner is green often or not ...

In a music there is a lot of simultaneous frequencies: the tuner needle remains fixed or varies too quickly then hangs ... Meaning that the tuner does not pick up an identifiable frequency because it has too much!

And sometimes the tuner finds an isolated frequency in the music and gives its exact note.

if it's green when the tuner is calibrated in 432 hz so it's 432 hz :)

But you have to be patient, listen to the whole song to find all the places where the tuner finds an isolated note and also, to check, it will calibrate the tuner 440 to compare, invalidate or confirm that it is a piece of music in 440 Hz or 432 Hz ...

By searching you will always be able to determine if a music is in 432 Hertz or not.
It's up to you to play ... the tuner!
432music.org sell tuner in 432 Hz >>> HERE
DIAPASON 432 HZ
diapason (tuning fork) 432 hz are not available on our website.

432music.org sell diapason (tuning fork) >>> HERE